Organic natural remedies designed for everyday use
"This is my first experience with ashwagandha and I truly noticed a huge difference in my general mood. Incredible."

Charmaine

"I absolutely love this product. I purchased at the beginning of quarantine & definitely noticed a huge difference in my energy & mental wellbeing - I literally felt 'activated'."

Shy

"So easily incorporated in to my morning routine."

Christopher

"I haven't had a sound night sleep in months and I've been avoiding medicating. Zzz Remedy is something I can feel good about taking since it's all-natural and it actually works."

Courtney
REISHI
Reishi will help boost your immunity, reduce stress and improve sleep, what more could you ask for?
SHOP
ASHWAGANDHA
Meet your new best friend, Ashwagandha. This powerful herb is known to reduce stress and anxiety while boosting your mood and energy.
SHOP
ECHINACEA
The secret's out: Echinacea is the ticket for boosting your immune system during cold and flu season. 
SHOP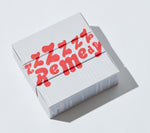 Zzz REMEDY
Our solution to a good nights sleep is a combination of valerian, hops and lemon balm to help relieve unrest and difficulty falling asleep. Say night, night. 
SHOP